Introduction
Filtration is the removal of fine solid matter from a liquid by passage through a septum or layer having small openings. It is one of the major industrial application that concern a wide rang of industries; basic chemicals (like sulfuric acid or caustic soda manufacturing), water treatment, food and beverage industry.
In various branches of industry filtering operations are carry out to have liquids with maximum clarity, within a shorter time and less efforts and costs. It's not possible to reach this ideal results of filtration without a filter aid.
Filter aid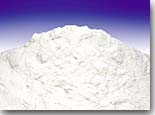 Without using a filter aid the solid particles in the liquid will soon accumulate on filtering surfaces and block them. Here it comes the necessity of using it.
Filter aid is an inert material which can make a filtering layer (cake) that transfers the actual filtering from the septum to the whole mass of filter aid. Filtration occurs in the tiny pores formed by the fine particles of filter aid.
The difference between filtrations with and without filter aid
Filtration

WITHOUT FILTER AID

- Filtration too slow

- Cycle too short

- Clarity not good enough

- Filter very difficult to clean
PERLITE FILTER AID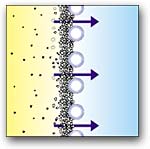 Perlite is a unique filter aid made from volcanic rock which is expanded and milled to a specific grades. The resulting filter aid is an extremely pure, inert, white, lightweight material having a unique interlocking structure with myriads of microscopic channels. It affords optimum flow rates and sparkling clarity in filtered substances. Perltie does not impart taste, odor or color to filtered liquids.
Therefore, it is excellent for filtering food, beverage and pharmaceutical products.
MAJOR COST ADVANTAGE
Perlite filter aids provide the user with a density advantage of 20 - 50% over other filter aids which is an important consideration when comparing costs. Perlite filter cake density is only 110 to 270kg/m3 . The dry density of perlite filter aid ranges form 100 to 200 kg/m3. Experiences in a variety of applications in many industries has shown that users of filter aids can considerably reduce filtration costs without sacrificing performance by converting to perlite filter aids.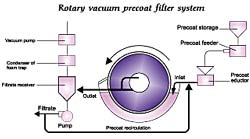 USABLE WITH STANDARD EQUIPMENTS
Perlite filter aid can be used with both pressure and vacuum filtration equipment. When Perlite filter aids are used with rotary vacuum filters, filter cakes exhibit less cracking than when other filter aids are used.

HIGH FLOW RATE
Due to their unique physical structure, Perlite filter aids offer high flow rates with optimum clarity. They are especially applicable to highly viscous liquids such as syrup or gelatinous slurries requiring fast flow rates.
Productivity, clarity , and flow rates may be increased through the use of perlite filter aids.
EASY CAKE RELEASE
Because they remain porous and do not compact, perlite filter aids afford easy cake release at the completion of a filtration cycle. Not only does this facilitate filter cleaning, but it reduces manpower requirements and increases productivity.
NON HAZARDOUS WASTE
Perlite is not hazardous waste and can be easily disposed of. Some cakes used for food processing can even be recycled as components in animal feed.
PERLITE'S ADVANTAGES
- Optimum clarity of filtered product
- Variable flow rates
- No color, taste, odor
- Inert, Insoluble in acids.
- Safe - less than .1% silica.
- Non-hazardous.
- Usable with standard filter equipment
- Easy cake release
- Facilitates filter cleaning
- Less equipment abrasion
- Easier to handle
- Economical

PHYSICAL PROPERTIES

Color

White

Free Moisture

0.5%

PH

6 - 8

Specific gravity

2.2 - 2.4

Bulk Density

110 - 145 kg/m3

Softening Point

870 - 1100C

Fusion Point

1280 - 1350C

Specific heat

0.2

Specific surface area

3.5 m2/g

Total pore diameter

58.2A

Soluble Iron

8.3ppm

Permeability

(Darcies) 3 - 4

Water Absorption

600ml/100g

GRANULE SIZE DISTRIBUTION

Mesh No.

Retained Weight %

Passing Weight %

30

trace

100

50

3

97

100

11

86

140

10

76

270

34

42

<270

42

0

CHEMICAL COMPOSITION (wt%)

SiO2

72 - 76%

Al2O3

11 - 17%

CaO

0.5 - 2%

MgO

0.1 - 0.5%

Fe2O3

0.5 - 1.5%

K2O

4 - 5%

Na2O

3 - 4%
APPLICATIONS OF PERLTIE FILTER AID
Food Processing:

- Cider
- Corn Syrup
- Fruit Juices
- Sugar
- Pectin
- Citric Acid
- Vegetable Oils
- Vegetable Juices
- Molasses
- Soft Drinks
- Casein



Industrial:


- Water Treatmen
- Oil Recovery
- Pool Water Treatment
- Greases
- Solvent recovery


Chemical
- Inorganic Chemicals
- Resins
- Organic Chemicals
- Sulfuric Acid
- Polymers
- Polyethylene
- Adhesives
- Titanium Dioxide
- Fertilizers
- Waste disposal



Paints/Coatings/Textiles
- Waxes
- Oils
- Varnish
- Gums
- Shellac
- Paint